Quality assurance, reasons for high quality
We keep our quality assurance system match with the times, by constantly reviewing our internal quality control system in accordance with GMP revisions, revising manuals, and introducing the latest analytical equipment.
In addition, we share detailed information such as deviations, changes, and customer requests thoroughly among employees.
The mindset of each individual who thinks through "what we can do for our customers and their safety and security," based on a foundation of sincerity, maximizes the power of our machines and systems to achieve high quality.
We strictly check everything from manufacturing site management to quality assurance after shipment.
We identify quality risks from the estimation stage and detect signs of internal problems to consider countermeasures.
Establishment of pharmaceutical quality system
●

Risk management at the estimation and development stage

●

System to build quality together with the management

●

Thorough audit of manufacturing sites

●

Periodic meetings by the three executives

●

Promotion of compliance education

●

Thorough sharing of information on the revisions to the Pharmaceutical and Medical Device Act through appropriate information management and educational training
Realization of independent quality control
●

Our efforts for PIC/S

●

Our efforts for DI

●

Regular meetings by the GMP Committee

●

Development and establishment of standard processes
We share every case among employees to reduce quality risks and avoid troubles.

Facilities and formulation technology
In the production division, facilities are in place to perform all processes in-house, from formulation to packaging. We deliver finished products ready for immediate shipment to retailers and wholesalers. The quality assurance division has a number of cutting-edge analytical instruments to perform the inspections specified by customers or those of our own.
Quality assurance
We will comply with GQP, GVP, and GMP to establish quality assurance. We comprehensively monitor and supervise the compliance of each product with the laws and regulations that must be observed in all processes from R&D to manufacturing, shipping, and post-marketing surveillance.
Collection of quality information
Customer feedback first (preventive and corrective actions)

We take claims seriously and utilize them for taking preventive measures and improving our products.

We evaluate adverse reaction information and report to the MHLW as necessary.
Educational training
Employee training (monthly all employee training)

Study sessions are held by managers, the persons in charge, or outside lecturers monthly for all employees.

Directors also actively participate in these sessions.
Audit of manufacturing sites
Audits (daily patrols of our manufacturing sites)

We patrol the manufacturing buildings and point out problems daily to ensure to provide safe products.

We also audit our suppliers to maintain the quality of raw materials and ensure a stable supply.
Signing of agreements
Signing of agreements (all documents are collectively managed)

We sign, confirm, and update various contracts and specifications, including GQP agreements, and manage their progress and contents.
Deviation, change, and collection
Quick response (from a third-party perspective)

We compile information on deviations, changes at manufacturing sites, and collection after distribution, to deal with them strictly and promptly.
Quality control
In accordance with GMP, we check the manufacturing environment, raw materials, and product quality using a variety of inspection equipment.
Regular checks and reviews are conducted to provide the pharmaceutical products of stable quality.
Through early detection of unsuitable products, we aim to promptly find the causes of problems.
Inspection of raw materials and products
We conduct acceptance testing of raw materials and various tests of intermediate and final products to make appropriate shipment decisions.
Through annual inspections, we also evaluate the stability of quality, and take precautionary measures to keep it at a constant level.
《Major test equipment》
High performance liquid chromatography and gas chromatography are used to accurately determine the amount of components.
We also employ a fluorescence detector, PDA detector, and method scouting system for a wide range of analyses.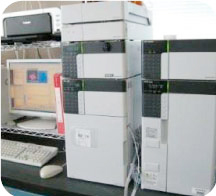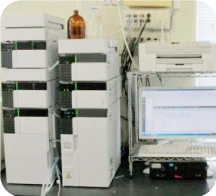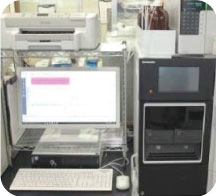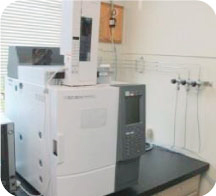 ● High performance liquid chromatography ● Method scouting system ● High-speed liquid with fluorescence detector
● Gas chromatography