Greetings
Since our establishment in 1917, we have consistently served our customers and supported their health under our company motto: "Dedication with sincerity." In response to our customers' desire to "always stay healthy," we have been striving daily to research and develop many products, from pharmaceuticals to health foods.
As of March 2022, in addition to Japan, our sales network has expanded to 12 countries around the world, including Taiwan, Kazakhstan, and Vietnam, and has received high praise from various quarters for our achievements.

In October 2021, we obtained ISO9001/ISO14001 certification, and in February 2022, we obtained FSSC22000 certification. These increased our corporate value and made both domestic and international customers feel comfortable appointing us.

Recently, customers who lack their own factories or laboratories have begun to use our factories not only for OEM supply but also for joint planning, design, and development. They allow us to act as their agent throughout the process, from application to quality assurance and drug formulation. Please do not hesitate to contact us. We are here to help you.

We will always try our best to respond to our customers' requests and develop products from the customer's perspective to ensure their satisfaction and comfort with our service. We have a team of highly motivated and talented young staff members who will work hard every day to respond to your needs promptly. I would appreciate it if you could give us an opportunity to work with you.
Shiseido Pharmaceutical Co., Ltd.
President
Toshitaka Tomishi
Company motto
I will do my best with sincerity
Breathless sincerity
This is a lesson that the saint has shown as a major requirement for the highest moral practice. "Sincerity" refers to the innocent heart of God without selfishness.
"Breathless" means that such pure sincerity continues to work without rest.
Sincerity also means that we continue our actions day after day, month after month, so that we can finally achieve good results.

We will carry on the consistent philosophy of "sincerity" and pass it on to the next generation.

Philosophy
1. We aim for the prosperity and perpetuation of the company by practicing management that integrates morality and economy.
1. Through our business, we contribute to people's health and happiness.
1. We aim to improve our own character with a mind of gratitude and reward.
Vision statement
(Future vision)
Aiming for the management that integrates morality and economy to realize the happiness of employees and their families
= "Three way satisfaction (Good for everyone)" and the development of human resource that is useful to society
Aiming for absolute management stability = Aiming for equity ratio of 60% or more
Aiming to become No. 1 in the overseas market for OTC drugs as a small- to medium-sized pharmaceutical manufacturer
Business building focused on product development on behalf of customers = aiming for integrated contracting, from development to formulation
Aiming to be a 200-year company
Company profile
Company name
Shiseido Pharmaceutical Co., Ltd.
Location
220-1 Oaza Chihara, Gose City, Nara Prefecture(Accessed)
TEL.0745-62-5555
FAX.0745-62-5670
Founding
May 1917
Establishment
May 1959
Capital stock
70 million yen
President
Toshitaka Tomishi
Managing Director
Hatsumi Shimaoka
Directors
Kousuke Tomishi
Masataka Tomishi
Yoshiki Ogasawara
Takanori Ishikawa
Business
Pharmaceutical manufacturing
Type II pharmaceutical manufacturing and distribution
Quasi-drug manufacturing
Quasi-drug manufacturing and distribution
Additive manufacturing
Manufacturing and distribution of health foods
Other contract manufacturing
Affiliated companies
Nichiyaku Corporation
Banks
Nanto Bank (Gose Branch)
Resona Bank (Yamato-Yagi Branch)
The Shoko Chukin Bank (Nara Branch)
Japan Finance Corporation (Nara Branch)
Nara Prefectural Shinkin Bank (Shinjo Branch)
Member organizations
Nara Pharmaceutical Cooperative Association
Osaka Pharmaceutical Association
General Incorporated Association Nihon Dohkeikai
The Institute of Moralology
History
1917
May: Isamu Tomishi founded "Tomishi Shiseido Yakubou"
Started production and distribution of home medicines
1959
May: Company name changed to Shiseido Pharmaceutical Co., Ltd.
   Address changed to 654 Tomita, Gose City, Nara Prefecture Capital stock 300,000 yen
   Toyohiro Tomishi assumed the position of president
   Started pharmaceutical manufacturing and distribution
1961
Feb: Capital increased to 1.2 million yen
1965
Dec: Expansion of pharmaceutical manufacturing plant and research building
1969
June: Capital increased to 4.8 million yen and acquired a pharmaceutical manufacturing plant facility
1976
May: Head office of Shiseido Pharmaceutical Co., Ltd. relocated to 220-1 Kayahara, Gose City
Capital increased to 19.2 million yen; paid-in capital increased to 76.8 million yen
1983
Oct: Capital increased to 30 million yen, paid-in capital increased to 120 million yen
1988
Nov: Started manufacturing and distribution of health foods
1995
April: Capital increased to 50 million yen
May: Extension and renovation of pharmaceutical manufacturing plant and administration building
   Completion of GMP-compliant plant
2001
June: Toyohiro Tomishi assumed the position of chairman
   Toshitaka Tomishi assumed the position of president
July: Started manufacturing and distribution of quasi-drugs
2007
May: Expansion and renovation of pharmaceutical raw materials and product warehouse
2010
Mar: Eco-Action 21 certification/registrationStarted environmental preservation activities
Nov: Started additive manufacturing
2012~2014
May-Aug: Extension and renovation of pharmaceutical manufacturing building, research building, cafeteria, and others
2019
April: Capital increased to 70 million yen
Nov: Opened representative office in Hanoi, Vietnam
2020
Sep: Issued corporate bonds of 50 million yen (Resona Bank)
2021
Sep: ISO 9001, 14001 certification
2022
Jan: FSSC22000 certification
Completion of Minami Juso Warehouse
Basic Policy on employee training
To enhance the "human ability" (character) of every employee, Shiseido Pharmaceutical strives to create a warm and caring workplace by adopting the study of Moralology, a comprehensive study of human nature. We also promote the development of employees who are useful to the nation and society and an education for employees that integrates morality and economy.

The small accumulation of each employee eventually becomes a great strength, leading to the growth of employees and the growth of the company at the same time.
"Small efforts add up to big results." The accumulation of small efforts eventually leads to a large harvest and development. If you neglect the small things, you will not be able to accomplish the big things. (Ninomiya Sontoku Okina)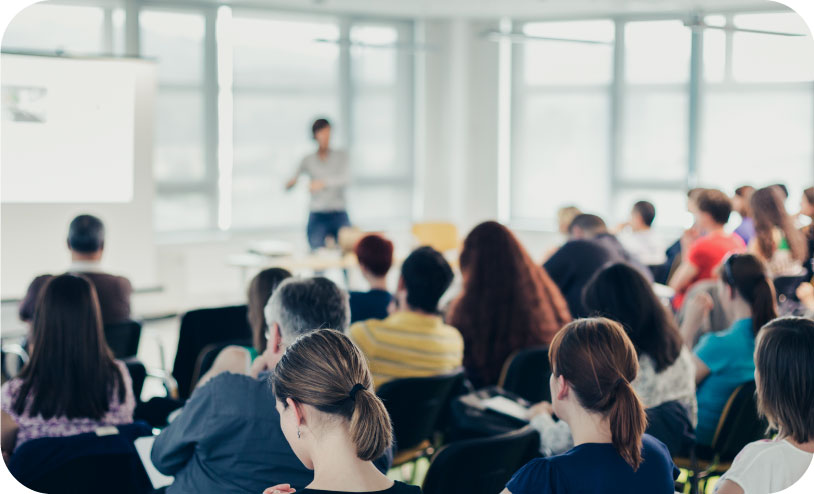 Cultivate the mind of compassiond
● Always be interested in the person in front of you
● Always consider the other person's perspective to cultivate an altruistic mindset
Cultivate the mind of gratitude
● Become aware that you are a part of nature; realize that you are being kept alive; and develop a mindset of gratitude
● Realize the great debt we owe our parents and ancestors, and be grateful for their support
Cultivate the mind of independence
● Take initiative and act responsibly
● Become a person with a sense of mission and conviction
Developing four strengths
● Develop people of high integrity
● Develop a business model through omotenashi (hospitality)
● Connect customers and vendors with us
● Connect employees with each other and with the company
● Human ability of each employee
● Enhancement of finance
● Dissemination of company motto and management philosophy
● Intellectual asset management report
● Integration of morality and economy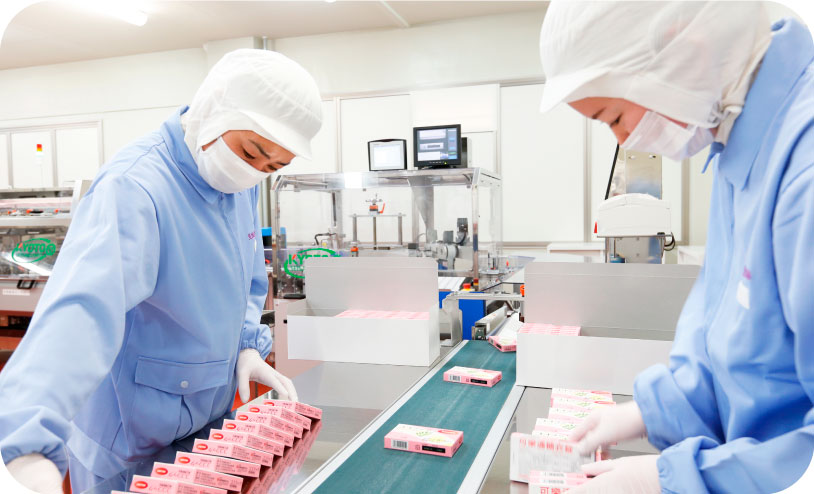 Environmental policy
Through our business activities, we will contribute to the maintenance and improvement of public health and the preservation of the global environment by working together as a team to actively and continuously engage in environmental activities under the motto of "sincerity."

1. We establish an environmental management system and promote environmental conservation activities.
2. We work on the following items to reduce the environmental impact of manufacturing and sales processes.
(1) Promotion of energy conservation (electricity, fuel, etc.) and resource conservation (water, paper, etc.)
(2) Promotion of the 3Rs (reduce, reuse, recycle) of waste
(3) Promotion of the development and sales of environmentally friendly products
(4) Promotion of products compliant with the Green Purchasing Law
(5) Promotion of proper management of chemical substances
(6) Promotion of conservation and sustainable use of biodiversity
3. We will harmonize with local communities and comply with environmental laws, regulations, and other requirements.
4. We will thoroughly share this environmental policy with all employees and systematically implement educational training to raise environmental awareness and promote improvement activities.
5. We will make this environmental policy public.
Acquisition of Eco Action 21 certification and ISO 14001 certification
Shiseido Pharmaceutical Co., Ltd. acquired Eco Action 21 certification in March 2010 and ISO 14001 certification in September 2021, both based on guidelines for environmental management systems and environmental reporting established by the Ministry of the Environment of Japan.

We will continue our efforts to further protect the environment through corporate activities based on our basic philosophy and policies.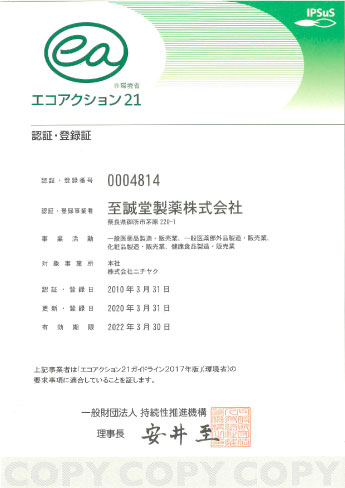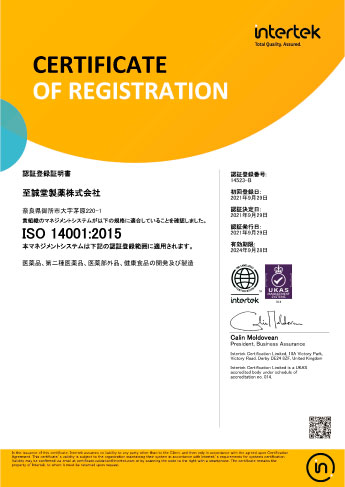 SDGs initiatives
Our approach to achieving a sustainable society
Creating a society where people can live in good health
Through the manufacture and sale of pharmaceuticals and supplements, we aim to create a society in which people around the world can enjoy good health.
① We will comply with corporate governance and compliance, and provide products that are safe, practical, and satisfying.
② We will provide products that meet globalization requirements to overseas customers at appropriate prices.
③ We will expand the circle of SDG activities through supply chain management.
④ We aim to manufacture safe and human body-friendly products in compliance with 〈FSSC22000〉〈ISO9001〉.
Promotion of environmental management
We aim to reduce our environmental impact through appropriate resource management.
① We will strive to appropriately identify and reduce our environmental impact through Eco-Action 21 activities.
② We promote 3R (reduce, reuse, recycle) and aim at waste reduction.
③ We will engage in local activities to protect the environment.
④ We will address global environmental issues in accordance with 〈ISO14001〉.
⑤ Protect the safety of employees, their families, and the community based on a business continuity plan (BCP)
Creating a workplace in which we feel motivated to work
With an eye on the diversification of work styles, we aim to create a workplace where all employees can feel fulfilled and motivated in their work and lives.
① We will promote management that integrates morality and economy, and aim to create a workplace where employees can continue to work happily and in good mental and physical health.
② We will reform our work styles and realize a work environment that values work-life balance.
③ We aim to create a workplace that is easy to work in for various people, including people with disabilities and foreign nationals.
④ We will engage in activities to develop employee skills and raise awareness.